At Terra Translations, our values compel us to cultivate a company culture that we can take pride in. We've made it a priority to ensure that all our team members feel seen and supported. Going the extra mile to check in with each employee has been our focus, especially over these past few challenging years. In return, our employees have spoken! For the second year, Terra earns a Great Place to Work (GPTW) recognition.
What is GPTW?
GPTW is the global authority on workplace culture, employee experience, and leadership behaviors. These attributes guarantee market-leading revenue, employee retention, and increased innovation. The certification aims to make the world a better place by recognizing companies with healthy and engaging workplaces.
In order to be certified by GPTW, organizations are given a comprehensive employee survey. Over the course of a two-week period, the company will also complete a Cultural Proposal that summarizes the work environment and culture. Upon completing these reports, a third-party committee reviews submissions and identifies whether the organization meets GPTW's certification criteria.
GPTW Year Two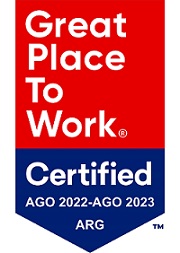 Last year Terra earned an impressive 93 out of 100 regarding employees' opinions on Terra being a great place to work. This year we did even better, scoring 98 out of 100. Not only is this score higher, but Terra also had a higher overall average for survey statements, rising from 92 to 94. After Terra shares the results with teams, we do something unique. We organize special meetings with every team member and HR to review the results and discuss any additional needs they may have. This is to ensure our employees have a safe space to comfortably voice their opinions they find difficult to share within a larger group. Terra implements feedback from our team members at every level of the organization.
Earning this designation for a consecutive year signifies Terra's growth and commitment to employee well-being. The GPTW team supported Terra throughout the 2021 year to better connect our employees' passions with their work. Their guidance has been critical to our continued success and our overall survey score improvement.
Our Commitment Continues
Terra will continue building an empowering workplace with ongoing initiatives such as our well-being program and career enrichment. For instance, we ensure that our team has the necessary equipment and accessories that make their jobs more comfortable. We hold stretching sessions and share articles that promote mindfulness. Additionally, we identify skill gaps and offer training programs that allow employees to grow their skills and knowledge. Lastly, as a remote company, we work diligently to curate social spaces and strengthen interpersonal relationships. This includes launching an employee recognition program where staff nominates their colleagues. We also have a dedicated studio where employees can gather to work or meet in person as they like. To ensure a positive and effective impact on our employees, we adapt our initiatives to their needs. They can choose to participate or not with an open invitation to share how we can improve.
People First
With a people-first approach to company culture, Terra believes in authentic and genuine care for our staff.
"We firmly believe that people are the most important thing in our company. And that is not just a mere catchphrase: It's a reality," explained Natalia Quintás, Chief People Officer at Terra. "We consider people in every decision we make."
Unfortunately, not all companies promote a work culture where everyone feels like they belong. The threat of disconnection and division looms as our future grows more remote. For management, the transition and engaging a remote workforce can be daunting. At Terra, we emphasize inclusivity and diversity and let every person know that we're in this together. We are not a company driven by competition but by collaboration, we complement each other.
As we continue our journey of learning, we consider GPTW a vital tool in this evolution. The feedback from this survey and our post-survey check-ins will only help us improve and become a stronger organization for our team and future team members as our company grows. We set our sights on next year's certification, as it will be an achievement we will continue to strive for.